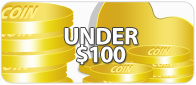 With a lot of people on a budget anything within the $100 budget can be a great buy. Please see the great list of speakers available at this price below!
What makes a popular iPhone speaker for less than $100:
Very good sound quality
Come in a variety of interesting designs and looks
Saves a bit of money
and the list can go on....
iPhone Speakers for under $100:
Logitech S315i
Logitech S315i Portable iPhone/iPod Speaker
Logitech made a very portable, easy to transport speaker that works very well. The S315i boasts a small compact design with folding dock and smooth speakers.
Editor Rating: 9.0
MSRP: $99.99
Buy from Amazon here
. (Approx $59)
Read our complete Logitech S315i Full Review
iHome iA91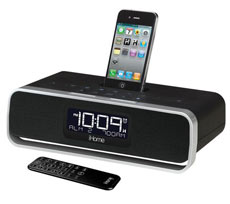 iA91 iPhone / iPod Alarm Clock
This is one of the newest iHome alarm clocks for 2011. It comes with all the essential alarm clock functionality plus many advanced features. Get the iHome+Sleep app for even more flexibility.
Editor Rating: 9.0
MSRP: $99.99
Buy from Amazon here
. (Approx $89)
Buy from http://iHomeAudio.com ($99)
Read our complete iA91 Review
DGA LiveSpeakr
DGA LiveSpeakr
With Livespeaker you no longer have to lay your iPhone down or hold it for hours while watching a movie. Livespeakr is holds your iphone at multiple viewing angles in any situation. The feet of the stand are rubberized to keep the system stable.
Editor Rating: 8.7
MSRP: $79.99
Buy from Amazon here
. (Approx $55)
Read our complete DGA LiveSpeakr Review

ihome iP46
iHome iP46
Rock out to the music on your iPod anytime, anywhere with the uber portable iHome iP46. At just 3.5-pounds, it's light enough to toss in briefcase, bookbag or purse but boasts a four-speaker system for plenty of powerful on-the-go sound.
Editor Rating: No Rated
MSRP: $99.99
Buy from Amazon here
. (Approx $85)
Read the complete iHome iP46 review

iHome iP90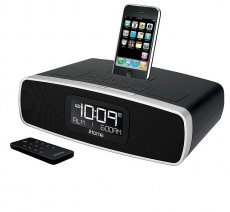 iHome iP90
The iP90 is the latest alarm clock radio offered by iHome. It features a large display, great sound quality, time sync, dual alarm and AM/FM settings for iPhone/iPod. In short, you are completely entertained while you're awake or sleeping.

Editor Rating: Not Rated
MSRP: $99.99
Buy from Amazon here
. (Approx $85)
Buy from iHome here.
Read the complete iP90 Review
iHome iA5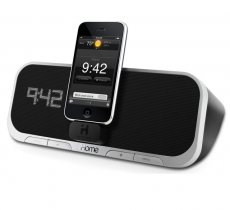 iHome iA5
The iA5 allows you to put up to 18 alarms, set multiple user profiles, reminders and messages, track sleep statistics, know weather reports and stay connected to social media websites through user-friendly touch screen.

Editor Rating: Not Rated
MSRP: $79.99
Buy from Amazon here
(Approx $69)
Buy directly from iHome here
Read the complete iHome iA5 Review
More Gift Guides