iHome iP51 iPhone Alarm Clock Review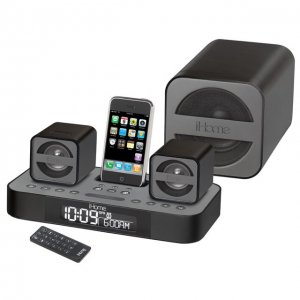 Price & Model
Model:
iP51 Dual iPhone Alarm Clock
Power
AC Power Adapter:
Included
Alarm Clock Features
Weekend Alarm Schedule:
7-5-2 Schedule
iP51GR 2.1 Micro System With Dual Alarm Clock Radio For iPhone/iPod is a great alarm clock that is a speaker system first then an alarm clock.
iHome iP51Highlights
Wake to iPhone/iPod, playlists, AM/FM radio or buzzer
Plays and charge iPhone/iPod
31 watts total output (16w subwoofer, 7.5w each speaker)
Charge your iPhone while playing
iHome iP51 Description
The iHome iP51 is a compact home stereo system that delivers full sound to your iPod/iPhone and functions as an alarm clock radio with many features.
iHome's iP51 is a perfect home stereo system for your iPhone/iPod, delivering full-size sound in a compact system. This space-saving micro system features an external subwoofer, and can also be used as a clock radio to wake and sleep to your iPhone/iPod.
Powerful Sound And Many Alarm Clock Radio Features
Two satellite speakers and a powerful subwoofer lend powerful sound to the iP51 – enough to blast you out of bed if you use it as an alarm clock radio or provide enhanced sound if you use it as a home stereo system. The iP51 is small, but boasts big sound.
The iP51 offers sound that is exceptional for a combo stereo/alarm clock. Credit that with the Reson8 speaker chambers that deliver on-blast sound with bass, treble, 3D and balance controls. Even the alarm clock has many features and settings such as programmable snooze, 7-5-2 alarm that lets you set separate weekday and weekend alarm times, menu navigation, wake to playlist, automatic clock and gradual wake and sleep.
A full-featured remote is included. It's 10 x 5 x 1.5 inches and weighs 9.4 pounds
Great For
Those looking for a different style alarm clock
Those looking for satellite speakers
What's In The Box
iP51GR System
Subwoofer
AC Power Adapter
Two AA batteries
Remote
User reviews
There are no user reviews for this listing.